Do you ever fell that you will never be able to buy a house, that you are not ready to settle down, or that you want to explore the world but doesn't have the wallet to do so. So do we. And that's why Atria exists.
We are building something different, something for you.
Get to know who we are and what we are made of.
What we
believe and
what we are
working for.
To a world without walls but open doors.
Atria came to life in as a symbol of  a new time and opportunities after the pandemic's first wave. We wanted to remember both events – one uncertain and one exciting – as happening simultaneously at the same year, because both types of moments make up our lives.
Since the start of 2021, we have been planning and working to bring an innovative way for real estate investments and property income. Opening the doors for any kind and size of investors to international properties, while at the same time bringing amazing properties and services to the flexible life market – and dream.
We are made borderless people, a mixture of cultures, passionate travellers and tech enthusiasts.
After living in Brazil, USA, UK and France, other than travelling to many others countries, Reyton nomad's DNA came alive. The idea started as a way of connecting his 3 passions – real estate security, community and free lifestyle – making it available for him and others. By using his academic background, life-work experience, brazilian entrepreneurship spirit, and tech passion, Atria was born.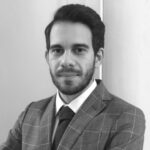 Filippo Paluzzi has a great experience at the consulting world. After years with Deloitte he was recruted by BCG to work at its digital transformation hub in Italy and Europe, BCG Platinion.
An enthusiastic, curious, highly motivated and ambitious individual with strong passion for digital transformation, focusing on customer experience and solutions.
Filippo has 5+ years of expertise in digital transformation projects, working with global leading companies in the luxury goods, premium automotive, industrial sector, travel and energy industries.
A blockchain enthusiast since 2015, Andrea attained a Master's Degree in Digital Marketing and Sales Management from HEC ULg Management School of Liège. What he found most attractive about the marketing sector is the continuous strive to find creative and brilliant ways to communicate in the most efficient way to people, crafting an integrated and impactful message through multiple channels.
During his work experiences, he developed an extensive knowledge of the advertising industry with a focus on marketing and digital marketing. Andrea was involved in different engagements ranging from the fitness industry to the financial one.
Daniel is a full-stack developer who migrated to team management in the past years, but his coding passion brings him to the keyboard every chance he gets. He has a large and current experience with Blockchains, DeFi, DevOps, WP, PHP (5,7,8), JS (Node, Vue, React), HTML/CSS, Web Components, API's, International Payments Gateways, Invoicing, CRM, ERPs, and others. Daniel has a special track record working with systemic platforms, blockchains,  secure payments and transactions, being involved at the creation and development of the largest brazilian secure payment gateway (PagSeguro) among other projects.
Marcel is an experienced tech enthusisast, with a demonstrated history of working in the internet industry for more than 20 years. Leading numerous projects he has a strong experience with business development, marketing overseeing, communication, design, web development, Search Engine Optimization (SEO), business planning, e-commerce, and advertising areas within projects.
Priscilla Iensen Scheffel
Priscilla's curious nature always pushed her outside of the box, wanting to experience different cultures and places.
She carries over than 10 years of expertise working with marketing and design at the brazilian, north american and european markets – currently enjoying her 6th year working as a digital nomad.
RE Commercial Development
Giacomo is passionate about the new, and how the maket can be revolutionized. Having more than 15 years of experience at the real estate market he currently leads the biggest real estate agency in the south of Tuscany. Over the years he performed property sales for clients worldwide – more than 40 countries. 
Mexican creative doing life in Italy. After the US and Mexico Eliza came to Italy to continue her professional education and journey. Her understanding of architectural space, living arrangements and her experience with remote working makes Eliza a great addition to Atria team.
Tim is currently a northern-irish living in beautiful Tuscany. A executive leader, company director and corporate lawyer with a career working at leadership and business growth. His experience at strategic corporate structure and gowth, real estate projecting, and tourism are essential to Atria's concept and operations. A St. Andrews University Law Alumni that worked in London for the prestigious company Slaughter and May advising on some of the most significant M&A and IPO's before moving to Sydney to oversee intercontinental outsourcing legal, architectural and engenieering services and projects. Currently an Executive Director at Alma Italia Travel and Board member of  Catalyst AE.

Sydney, London and now Milano. Over the past 15 years Dan's strategic, creative & leadership experience has covered the majority of digital, commerce & social marketing disciplines. Ask him about Living, Automotive, Alcohol, CPG, E-commerce, Energy, Entertainment, Fashion, FMCG, Media, Music, Sports and Telco. Also available for aperitivo and card tricks. Brands Dan advised and who will (probably) say nice things about him: Audi, Adidas, Bacardi, Bombay Sapphire, Cadbury, Ferrari, Grey Goose, Honda, Heinz, Hendricks, Honda, Iberdrola, Max Mara, Mediaset, Moncler, Oreo, Pernod Ricard, Polaroid Eyewear, Prada, Sky, Vodafone, Volvo & more.
Walmir has more than 40 years of experience in activities in the technology & telecommunications industry, performing activities as Director of Corporate Structuring Projects, Chief Financial Officer – CFO, Board of Directors, Presidency of the Fiscal Council. Mainly at TIM S/A and TIM S.p.A.
In recent years has also taken the presidency of NGOs with an area of operation in Brazil, Europe, Africa and Asia.
Valentina's goal is to work with great entrepreneurs that believe they can change and disrupt the World.
Her mission is to help organizations that are committed to changing the reality around them, bettering people's lives, and bolstering social advancement.
Over the years, Valentina have collaborated with 2000+ startups, helping them in the delicate growth stages through my expertise in marketing, communication, and general strategy. She also partnered with different governments on business development programs (Italy, South Korea, Japan, Turkey). In recent years has also taken the presidency of NGOs with an area of operation in Brazil, Europe, Africa and Asia.
Atria team is also formed by our lead blockchain developer with exchange and DeFi experience, a group of five seasoned developers, our two legal experts, both in traditional and web3 ventures, and the support of our swiss accounting firm.